As with any security system, there a lot of things you need to know before you decide what camera system to install. You might know you're looking for wireless security cameras, but you need to know what they can do and where you want them. Every element in a camera system should fill a specific function, whether that's tracking license plates, recording faces at the door, or simply recording your premises.
Wireless Security Cameras
Unlike a traditional video surveillance system, wireless security cameras are designed to broadcast their video feed over a WiFi network rather than Ethernet or coax cables. This gives your surveillance network a few distinct advantages:
Pros
Easy Installation: Installing wireless security cameras is significantly easier than traditional hard-wired CCTV systems.
Low-cost Setup: Because installation is so simple, setting up your wireless cameras is significantly cheaper than installing a hard-wired CCTV network.
Easy Repositioning: Wireless cameras can be moved as much as you want without the hassle of rewiring.
Cloud Storage: The footage is stored wirelessly – most wireless surveillance providers offer cloud storage and backups, so your data doesn't even have to be on-site.
Remote Access: Each camera functions as an independent node you can access from any supported wireless device – and if they have Pan-Tilt-Zoom capabilities, you can remotely control the field of view.
Two-way Audio: Many wireless surveillance cameras include two-way audio capabilities, allowing you to hear and talk through your cameras.
Cons
All these wireless connections mean WiFi cameras give up some benefits of a hard-wired surveillance system, however:
Limited Video Quality: The compact design and transmitting requirements of wireless cameras limit their maximum resolution and zoom capabilities.
Battery-Dependent Power: Wireless cameras rely on batteries, requiring to you to change them periodically.
decreased Network Traffic: Multiple wireless cameras increase the load on your WiFi network, slowing your connection to both the surveillance system and other Internet applications.
Short-Range Signal: Wireless cameras are limited to the range of your WiFi network.
Paid Cloud Subscription: While wireless cameras are generally cheaper to install, you have to pay a subscription fee to keep your footage on the cloud.
Limited Surveillance Recording: Some companies might use an algorithm to determine what footage is worth keeping in the cloud and what isn't, meaning you don't get the 24/7 coverage provided by a hard-wired system.
Choosing a wireless surveillance system over a hard-wired CCTV network means you value convenience, efficiency, easy remote access, and mobility. If you're more interested in versatility and image quality, you may want to reconsider installing wireless security cameras.
Going Wireless
If you've chosen to install a wireless camera network, you can mitigate the downsides by meeting your specific needs with specific camera features. Wireless access gives you a lot of unique features to secure your home remotely.
Nest Cam
Nest makes a few WiFi cameras that are plugged into a continuous power source, eliminating the need to change batteries. They record both audio and video, and can even transmit audio through a built-in speaker. With a subscription to the Nest Aware cloud service, recordings can be stored in the cloud for later access and you can configure custom alerts based on footage analysis. Unlike some other cloud services, Nest Aware doesn't discard footage it deems irrelevant, so you retain 24-hour surveillance with wireless access.
Ring Cameras
Doorbell cameras are typically a hybrid between a two-way intercom and a wireless surveillance camera. Ring makes a series of doorbell cameras that mount next to your front door, either completely wireless or wired for power. These easy-to-install cameras send a live feed to your smartphone through an app, and some are night-vision capable or have motion-activated alerts that notify you when someone approaches your door.
Arlo Cameras
Arlo's small, versatile wireless cameras are simple to set up and easy to mount and reposition. Several are IP rated, allowing you to use them outside where most other wireless security cameras would be vulnerable to the elements, and all of them can be armed and viewed through Arlo's app. Most of them only record when they detect motion or activity under the basic subscription, but for an extra fee the Arlo Q series and Baby camera can record 24/7.
Alarm.com Cameras
The Alarm.com app makes all these features accessible from your smartphone or tablet. They pioneered the GSM cellular connection from your phone to your alarm system and are the largest service in the industry today. Their app can integrate feeds from their wireless security cameras into the same interface that controls your door locks, alarms, and even your smart home systems like lights and thermostats.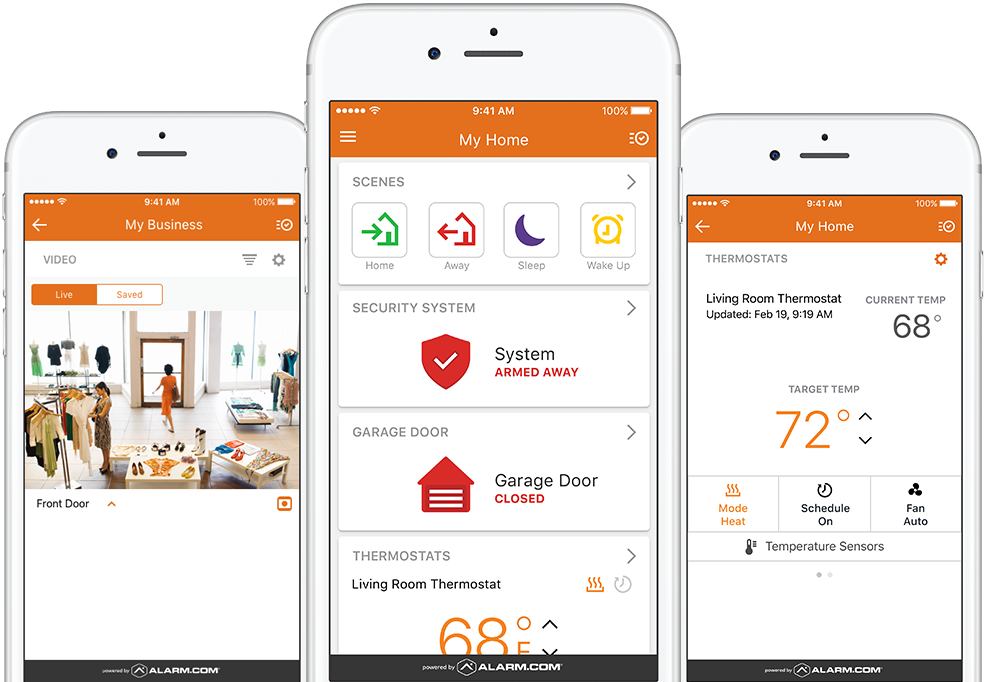 Your Local Security Camera Installer
At Safe and Sound, we put in the time and effort to ensure the kind of customer satisfaction that you just can't get from a bigger company. We're California people, and being neighborly is one of our business values. We want to keep our customers protected, but we also want to keep them informed. Give us a call to set up an appointment for a free consultation. It will let us get an idea of your needs, and give you an idea of what you can expect when installing a security camera system.